Facing Fear and Being Brave
Fear paralyzes, keeps us stuck and steals from us the opportunity to color outside the lines and experience a life without limits. When children first learn to walk, they are not worried about doing it wrong. Innately we are brave and curious beings.
No one has to tell a child how to walk. They are not afraid of failure, being wrong or getting hurt. They just do it. They are born brave until someone teaches them by example to be fearful.
Fear looms largest when we feel out of control

Several years ago we were visiting my beautiful daughter and her family in Arizona. We were hiking with our oldest grandchildren and four year old Hannah was my hiking buddy. The trail was rocky, treacherous and slippery in spots. I tripped on loose stones, landing on my behind (ouch). The drop off was steep and while the kids were doing great, I was concerned my Hannah might walk too closely to the edge. Not wanting to curtail her adventurous little spirit, I reached out and explained Nana needed someone to hold my hand so I would not fall. Eagerly she reached out and we trudged on. I gripped her little hand tightly when it seemed she was too close to the edge. She had no idea I was protecting her. Instead, she announced loudly in her bold four-year old voice, "Nana, you NEED to be brave and courageous because you have Jesus and God in your heart!" (Go Hannah girl… you have the right idea!) I felt out of control, but she did not.
What we fear most
A recent article in the Huffington Post listed American's top personal fears as:
Walking alone at night
Becoming the victim of identity theft
Safety on the Internet
Being the victim of a mass/random shooting
Public speaking
I recently did an impromptu survey of my own and found my little slice of Americana listing their top personal fears as:
Failure
Rejection
Being Alone
Success
Financial Ruin
Interestingly fear of a random shooting is ranked only slightly higher than public speaking with the common denominator among all respondents, fear of the unknown and being out of control.
Facing fear can make you brave.
I wish I was brave more often and afraid less. Recently I stepped outside my comfort zone to try something I had never done before. It was a big ask. I told Hubs about it before taking the plunge. He in all of his own bravery and courage said, " What are the chances THAT is going to happen?" Lest I give the impression he does not encourage me, I need to let you know I had said basically the same thing to him when I told him about my "jump into waters over my head" decision.
I did it afraid. It was uncomfortable and a little intimidating, but I knew the answer would be a big fat NO unless I tried. I chose brave today. Win, lose or draw, I tried.
Funny thing- now that I took this one step towards my fear of rejection, failure and success, I have this little voice inside of me saying "whoa girl- good job.. do it again!"
1. Brave means taking the first step, facing fear and doing it afraid. It means you are stronger than you know. My friend Jeff Goins talks here about doing life afraid sometimes.
2. Brave means standing your ground. Fear often is only as strong as the space you give it. If a barking dog runs up to you while you are on a walk, what happens when you begin to run? It chases you and most dogs are impossible to out run. If instead of running, you stand firm, speak with authority and claim your space, often the dog senses you aren't threatening it — and are not threatened by it — the dog often loses interest and if it doesn't …you fight for your life and do what you must to survive!
3. Brave means not giving in. Quitting is not an option if you want a bigger, more colorful and courageous life. If you try but fail… get up. Dust yourself off and begin again. Fear only wins when you stop trying. You might fail. You might also succeed, which for some can be as scary as failure. Believing in yourself is essential. Either way bravery and courage is needed.
Cacti in the desert, against all odds push up and grow. You and I against all odds must do the same.
You don't have to do brave alone. Gather others around you when you take a big step. Lean into the support you have or reach out for what you need.
Have I not commanded you? Be strong and courageous. Do not be afraid; do not be discouraged, for the Lord your God will be with you wherever you go. Joshua 1:9
Brave looks different for everyone.
Brave may be dealing with a wandering spouse who is breaking your heart.
Brave may be facing an all-consuming addiction in the life of your child.
Brave may be a physical or mental struggle you deal with every day.
Brave may be courage to start a new business and fulfill a dream of entrepreneurship.
Brave may be quitting your job or leaving a toxic relationship to make room for new.

Brave may be just putting your feet on the ground every day and reaching for hope to keep breathing.
"Each of us must confront our own fears, must come face to face with them. How we handle our fears will determine where we go with the rest of our lives. To experience adventure or to be limited by the fear of it" Judy Blume
What does brave mean to you? What area do you most need to be brave it? What would you need to move forward?
Please share in the comments and let us cheer you on! You've got this – go be brave and courageous today my friend!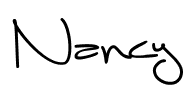 About Nancy Bouwens
Simplicity Coach, Writer & Wonder Seeker. My family and I are lifelong residents of the "Mitten" -near the incredible beaches of western Michigan and am passionate about beautiful things, human beings and living a life that matters. I believe people matter more than things. We can't do everything. What we choose to do matters more than we know, We will have to leave some things behind to live the life we yearn for and are called to. I believe most of all...God is faithful- even when he is silent.